David Adams
Mayor
I was raised in Mangum, Oklahoma where I graduated from high school in 1984.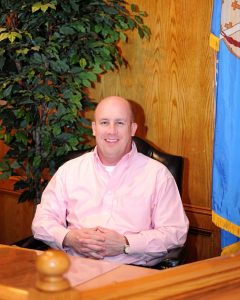 I attended Southwestern Oklahoma State University, majoring in criminal justice with a minor in political science.
I went to work for Elk City, Oklahoma police department in 1989. I continued my law enforcement career until 2008, working for Lexington and Purcell police departments.
I'm currently employed at SandRidge Energy in Oklahoma City as a technical security analyst.
I moved to Lexington in 1997 and have lived here for more than 17 years. I love the small town atmosphere and plan on spending the rest of my life here.
I have been married to Tonya High-Adams since 1998. Tonya currently serves on the Lexington school board. We both believe in continuing to improve and support our community and schools.
Tonya and I are blessed to have six wonderful children, five of whom are grown and living interesting lives of their own. We are also blessed with seven beautiful granddaughters.
I hope that during my time as a council member, I will be able to continue serving the citizens of our fine community in a manner that is both productive and fair. We face many difficult decisions as a council, but I know that as a community, we can continue to make our town a place that we can all be proud of.
Max Punneo
Vice-Mayor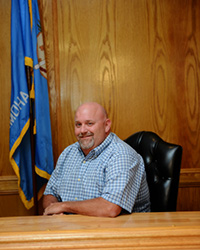 Max Punneo has lived in Lexington for the past 45 years, graduating from Lexington High School in 1989. He is married to Reika and has 4 children.
He has served as the K-9 officer for the City of Lexington and now works for Wadley's Ambulance Service and has for the past 21 years.
Max has been a volunteer firefighter since 1993 and currently serves both Lexington and Purcell Fire Departments.
Max is new to the City Council and looks forward to serving the citizens of Lexington.
Dennis Mitchell

Council Member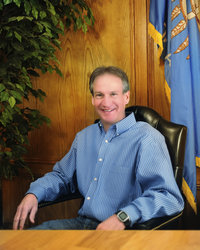 We bought our house in Lexington 25 years ago and I've enjoyed living here very much.. Even though I grew up near Slaughterville and graduated from Noble High School in 1979, I have been a member of the First Baptist Church of Lexington since 1975. My wife Margo graduated from Lexington. We have been married for 32 years. Margo works at Norman Regional Hospital. We have two sons, Justin and Trenton. Justin and his wife Micaela live in Edmond with their daughters Bennett Raye who is 4 years old and Reagan Lee who is 2 years old. Justin works at Data Ray and Micaela is a music teacher. Trenton and his wife Haley live in Perkins. Trenton is a Driver and EMT for the Stillwater Fire Department and part-time Police Officer for Perkins. Haley is a Registered Nurse at the Stillwater ER and the Norman Healthplex.
I have been employed with the Norman Fire Department for 34 years. I am a Captain at Station #8. I have served on the Lexington City Council since March of 2005. I received training in March of 2006 on "Principals of Municipal Government" at the Oklahoma Municipal League (OML). I also serve on the Lexington Fire Department as a Captain/ Training Officer. I enjoy working with our City Council and with our Volunteer Firefighters. These men that serve on the Lexington Fire Department are some of the finest men that I have been associated with in the fire service. These men sacrifice a lot and are truly dedicated to helping the people of Lexington. I am very proud to be a member of this department. I believe the City of Lexington is a great place'to live. It is a quiet town with good people. I plan to stay in Lexington so I want to be involved in the future of the City.
Thank you,
Dennis Mitchell
Chris Coker
City Manager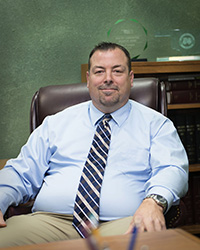 Chris Coker grew up in Lexington and graduated from Lexington High School. After 3 years of service in the U.S. Army, he and his wife, Deborah moved back to Lexington. Chris and Deborah raised both of their children, Jordyn & Zac, in Lexington.
Chris's career in law enforcement began when he worked for the City of Purcell Police Department for 23 years. While at the Purcell Police Department, Chris rose to the rank of Assistant Chief of Police. In 2010, Chris served as the Interim City Manager for the City of Purcell.
"After serving the citizens of Purcell for 23 years, I am excited to have the opportunity to come home and serve the citizens of Lexington. I look forward to the many challenges and opportunities to continue to make Lexington a great place to live."
Anna Lower
Council Member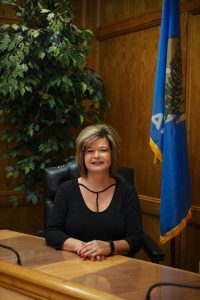 My name is Anna Lower, I was born and raised in California. I come from a family of six children. My parents moved to Lexington, Oklahoma in 1991. My daughter Nicole, and I moved with them. She is now married; her husband, Evan, is an employee at the City of Lexington. I have lived in Lexington with my spouse and three dogs for nine years. My favorite things consist of cooking and spending quality time with my family.
Mike Donovan
Council Member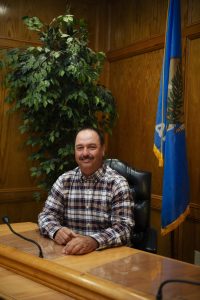 Mike did not have a typical small town childhood. He grew up living around the world as a military dependent. He settled in Lexington with his family in 1979. He attended Lexington Public Schools and graduated in 1985.
In October of 1985 Mike married Lori Atwood and together they set up a home in Lexington, where they have lived for 34 years. They have one daughter Vanessa and two Granddaughters. Mike is currently self employed. He owns and operates Mike's Monument Service. He also serves the Citizens of Lexington as the caretaker of the Lexington Cemetery.
Mike loves spending time with his family and being in the outdoors hunting and fishing. Mike is also looking forward to serving the Citizens of Lexington as a member of the Lexington City Council and being part of the change and growth in a great community.